Whether your pet is feeling dog tired, or just wants to take a quick catnap, they need a comfy and cosy spot to sleep. Here are 8 cleverly designed and trendy pet beds for your furry friend to catch some z's!
Dog Snuggle Bed from Charley Chau, £65
These cosy beds from Charley Chau are perfect for dogs who love to snuggle up under a blanket. They are made in England, and come in six different patterns. The only question is, do they come in human sizes too?
Guisapet Cat Bed, £62
These cute cat beds from Guisapet are anti-mould and dust-repelling, and give your moggy a comfy spot to have a nap. They come in black or white, and a range of different cushion designs.
Tweed Donut Bed from Mutts & Hounds, £98
This traditional donut-shaped dog bed from Mutts & Hounds is made from expertly crafted tweed from Yorkshire, and, like all of their products, are made in England with English materials.
Printed Cat Tipi from Free People, £78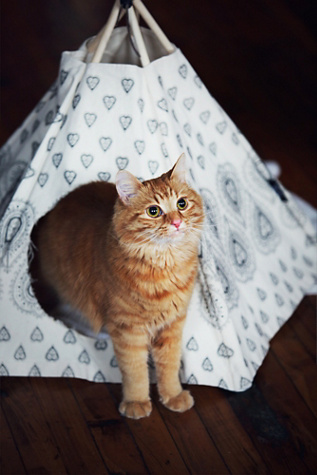 This adorable, 100% cotton tipi is the perfect hangout spot for any moggy. It is available in three different patterns, so there is something to suit everyone's cat! Available here.
Beco Mattress Bed from BecoPets, from £39.99
For an eco-friendly alternative to the usual offering, these beds from BecoPets are made with soft but durable hemp fabric and the filling is made with recycled plastic bottles! The beds come in three sizes, and in three different colours, and, there's a donut bed option. Pawesome!
Bamboo Radiator Bed from Rosewood Pets, £25
With this bamboo and eco-fibre radiator bed from our friends at Rosewood Pets, you can provide your cat with a cosy place to snuggle up in the winter months, without sacrificing on style and space. Available here.
Bloq White from Binq Design, €95
If you are looking for a multifunctional, minimalistic bed for your pooch, look no further than this pet bed/side table from Dutch company Binq Design! This trendy but practical piece of furniture also includes a drawer, and comes in six different finishes, and with 10 cushion colour options.
Woollen Cat Cave from LovesCatCaves, from £32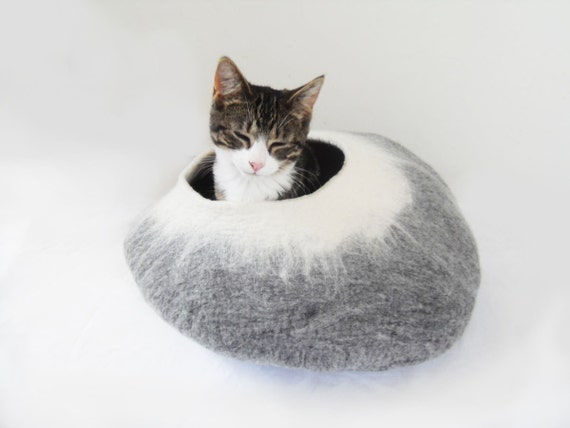 Hand-felted and made from 100% wool, these eco-friendly cat caves are ideal for cats that love to curl up in little hidey-holes. They come in a range of sizes, colours and designs, and can be made to order. Available here.
Featured image source.