Halloween is just around the corner, so it's time to get your crafty hat on and get started on the perfect costume for your pooch. From monsters to marine mammals, here are 13 of our favourite DIY Halloween costumes for your pooch!
1. A three-eyed monster
A quick and easy costume guaranteed to give anyone a scare! Find out how to make it for yourself here.
2. Stegosaurus
Jurassic World is the biggest movie of 2015 so far, but now there's no reason for your pooch to miss out on dino fever with this surprisingly easy but effective stegosaurus costume from The Next Bird!
3. A Beanie Baby
So simple, it doesn't even require a tutorial.
4. Starbucks cup
Bring the latte to the partay! All you'll need is a pair of scissors and an (empty!) paper coffee cup and you're good to go!
5. Spider
It might take a fair amount of time and effort, but this spider outfit is sure to be a Halloween hit! Find the creepy crawly instructions here.
6. Bloody Bandana
This gruesome bandana is perfect for pooches who don't like to have clothes put on them, as it won't restrict their movement. Instructions can be found here.
7. Chia Pet
Turn your real pet into a leafy green one with this simple tutorial! Lear how to do it here.
8. Flower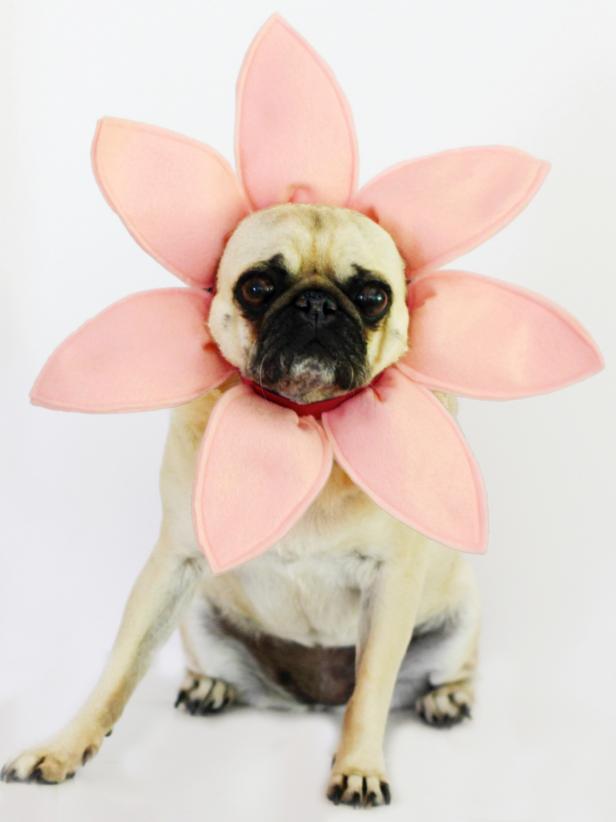 More cute than creepy, this costume only requires some felt, a sewing machine and some elastic, and you can find out how to make it here.
9. Ghost
All you need is an old white t-shirt or piece of fabric and a very patient dog!
10. Moth
If you want to dress your pooch as something genuinely frightening, why not try this moth costume! It requires minimal sewing, and you can find out how to make it here.
11. A tasty taco
Find out how to make your pooch look good enough to eat here.
12. Teddy bear
This adorable costume is easy to make – as long as you don't mind cutting off the face of a teddy bear! Via Munchkin the Teddy Bear.
13. Walrus
Best to attempt if you have excellent sewing skills and plenty of time to spare, this walrus costume might be a somewhat random choice, but is sure to impress everyone! Just follow these instructions, and you'll be having a whale of a time!
Do you have a great DIY costume for your pooch? Share it with us using #PawPosting!
Featured image via Maddie on Things.