In the luminous documentary, Between the Folds, Akira Yoshizawa, the grandmaster of origami, sits silently before a piece of paper, bows to the paper, then begins to fold. Like Michelangelo freeing his slaves from the marble slabs from which they were sculpted, Yoshizawa awaited inspiration and information from the paper to direct him in his creative process.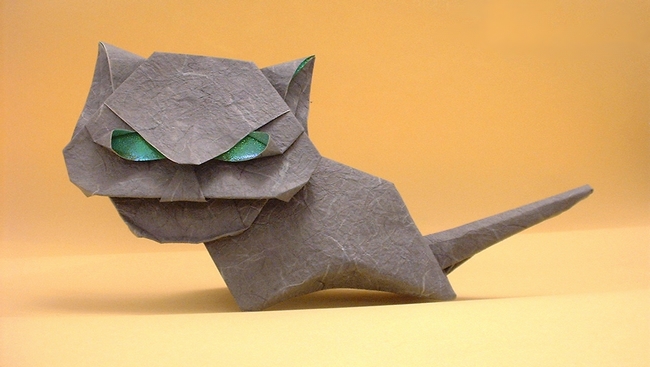 Within the scene, one can sense Yoshizawa respecting and honouring the paper, as if he were waiting for the single sheet to whisper to him the form it would become. With one flat sheet of paper – no cutting, no glueing – Yoshizawa pushed the limits of the medium, elevating origami from a craft to a celebrated art form.
In his lifetime (1911-2005), Yoshizawa developed many progressive folding techniques, and created over 50,000 models, of which only a few hundred designs have been presented as diagrams in his 18 books. Of these vast and varied paper delights, you can probably guess that amongst our favourites are his folded sculptures of dogs and cats. In these charming examples of Yoshizawa's remarkable skill, we sense more than hands adept at folding paper; these models integrate patience and focus with a sense of joy and playfulness. We think they are marvellous!

Origami demonstration by Akira's second wife, Kiyo Yoshizawa:

If you'd like to try your hand at making your own dog and cat origami take a gander at these tutorial books:


Dog Origami (Origami Books) – Seth Friedman
Available for pre-order here.

Cat Origami (Origami Books) – Roman Diaz
Available for pre-order here.

Origami Chess: Cats vs. Dogs (Origami Books) – Roman Diaz
Available here.
Featured image source.