Dog owners are always looking for a way to spoil their pooch, and birthdays are no exception! Make your dog's day special with this gluten and wheat-free, no added sugar, peanut butter and apple birthday cake – perfect for dogs with any food allergies!
Ingredients
1 Egg
3 tbsp Peanut butter
½ Apple (finely chopped or grated)
½ tsp Baking powder
Method
1. Pre-heat your oven to 180°C (gas mark 4).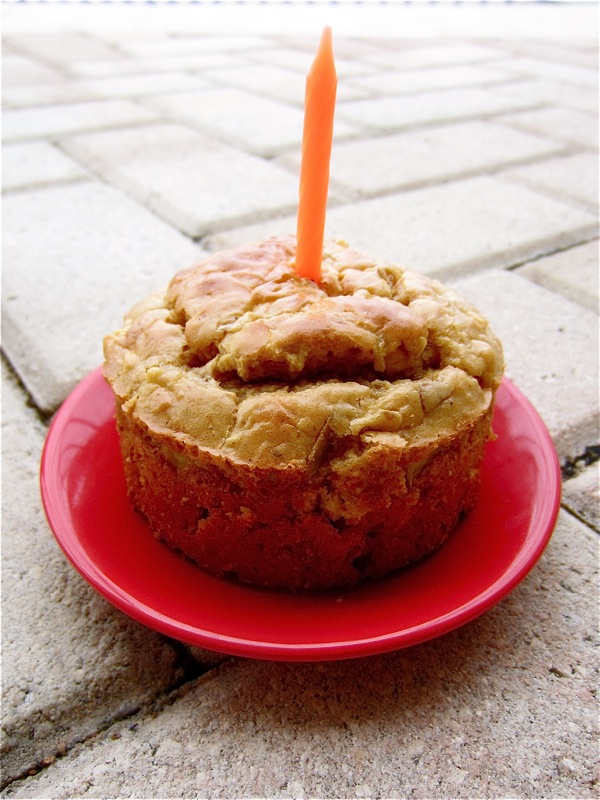 2. Mix all the ingredients until they come together in a mixture.
3. Grease (or line with greaseproof paper) a large ramekin or a jumbo muffin tin and pour in the mixture.
4. Bake for around 20 minutes, or until the cake is golden brown, and a skewer comes out clean.
5. Wait until the cake has cooled before feeding to your dog.
To make a sugar-free frosting, either mash together half a ripe banana and two tablespoons of peanut butter, or put them in a food processor, then spread over the top of the cake. Add a few of your pooches' favourite biscuits or treats for the ultimate birthday treat!
And if you don't think that you possess the kitchen skills to complete this recipe, don't fear – you can always buy a PupBake for only £2.99 from our online shop instead!
Recipe and image from Spoonful of Sugar Free.
Featured image source.