We love giving our cats handcrafted toys that are not only made with love and attention, but give back to those less fortunate. Freak MEOWt are the catnip connoisseurs of the feline realm that are using their creative designs to give back.
We were fortunate enough to interview Jayne, creator of Freak MEOWt and fellow cat lover. We wanted to know more about Freak MEOWt and about the catnip snow bunnies she's creating.
PP: What inspired you to create Freak MEOWt?
FM: I have been making catnip toys for my own cats for a number of years, so towards the end of last year, when after a restructure at work my job no longer existed! I took the decision to try and make Freak MEOWt into a viable business.
The name and branding came about after much brainstorming between my daughter and myself, we loved the name and thought it suited our products purrfectly. The idea was to keep the logo simple and clean and yet reflect the product hence the stylised upside-down cat.
The sushi and fortune cookies are some of the toys I have been making for some years and the other products just seem to evolve either from those original designs or from ideas that usually come about at 3am.
PP: What made you want to create the charity catnip snow bunnies?
FM: We wanted to do something for less fortunate cats so the initial idea was to send a box of 10 Catnip bunnies to a cat charity every time we reached an additional 100 Facebook page likes (we still do this). The bunnies had such a good response we decided to sell them with a donation going to a cat charity for every bunny sold. We currently have a stall at Aberystwyth Arts Centre Winter craft and gift Fair (running until the 23rd December) for every bunny sold there we will make a donation to Aberystwyth Cats Protection.
It's not just the snow bunnies, we give a £1 to a cat charity for every full price catnip bunny we sell. In addition if a purchase is made via www.notonthehighstreet.com/freakmeowt Not On The High Street will donate 5% to Battersea Dogs and Cats home.
PP: What makes the charity snow bunnies so special and what goes into making them?
FM: We like to think all our toys are special, they are all individually handmade and stuffed with Canadian Catnip. We like to play around with the bunnies trying new designs such as the popular moustache bunny and seasonal Snow Bunny (just available over Christmas) we also like to use different fabrics just to keep things exciting. The team here love the shape and size of the bunnies they are purrrfect for batting around.
PP: How important is it to you to give back to the cat community?
FM: Very, we wish every cat could have its own human to worship them, a nice warm bed to sleep in and a full tummy. We know cat rescue centres do fantastic work and we just want to help as much as we can in making the cats in care a little happier until they find their forever homes. Obviously the more toys we sell or Facebook followers we get the more we can help. We are still a very small company but hopefully if we become more successful we will be able to help more.
PP: Could you tell us a little about your cats?
FM: Here is the team!! McTavish and Tzipporah are brother and sister and are 17 years old so tend to take it easy.
Vienna is 12 he was found at 3 weeks old in a carrier bag up a tree, he's been with us ever since. Percy is our beautiful Ragdoll, Vienna's best friend and eater of treaties.
Kevin is 4 and came to us from Aberystwyth Cats Protection, he likes to keep warm.
Tesco found at 3 1/2 weeks old hanging by his back leg from a fence, he spent quite a bit of time in the vets to start with and still walks with a bit of a limp but he's fine and does enjoy his food and watching the birds.
Our newest addition is Major Tom a British Short Hair, he's only 5 months old but I think he may actually be a lion cub he's so big.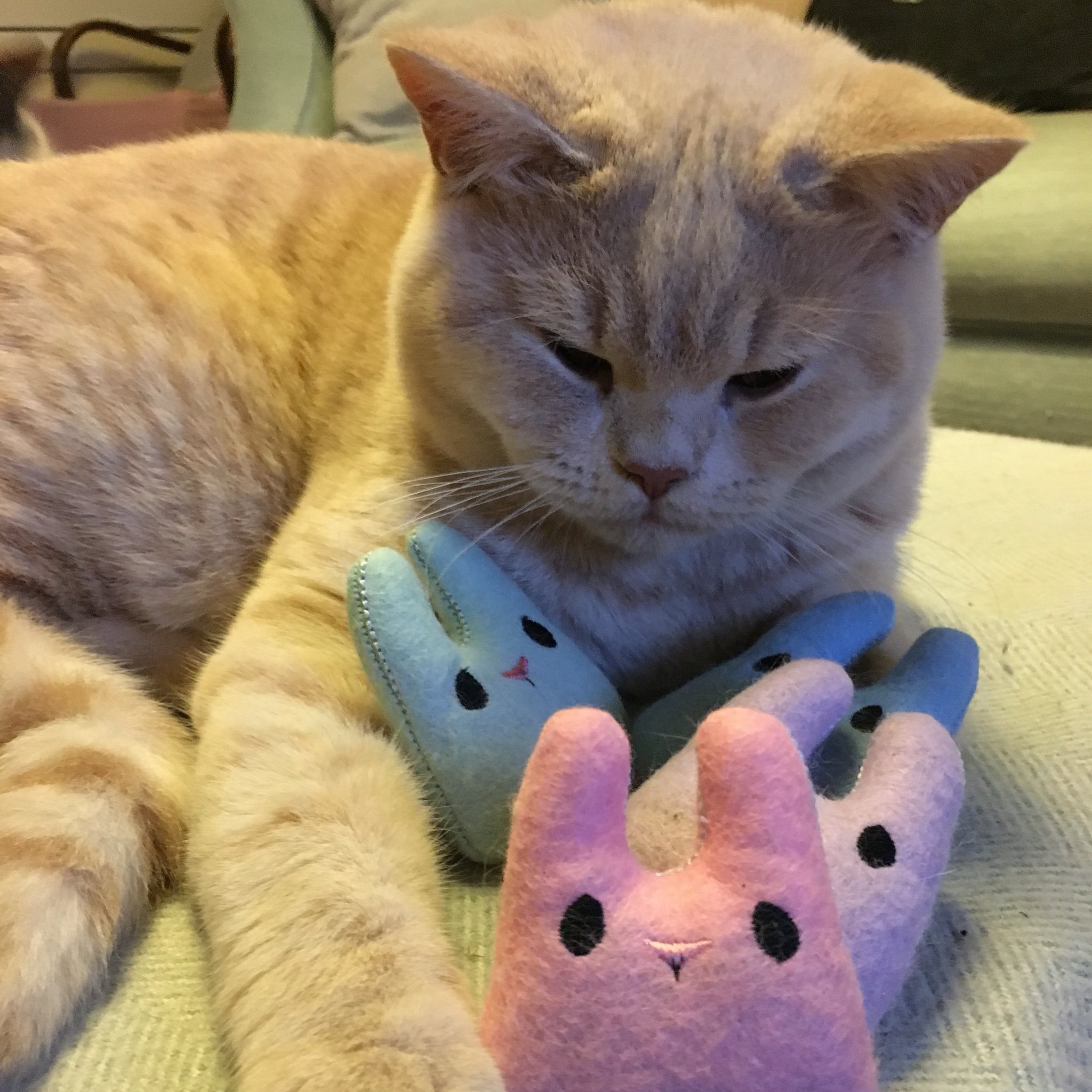 Make sure you're following Freak MEOWt on Twitter  and like them on Facebook.