As any new puppy owner knows, they can be quite a handful in the first few weeks, and require a lot of attention and care to help them settle into their new home. But one company has found the pawfect way to help their employees welcome new four-legged additions to their families.
Scottish brewery, BrewDog, has introduced a new "Puppy Parental Leave" policy for all of its employees in the UK and beyond. When staff get a new canine pal, they are now entitled to a week's paid leave to help their pup settle into their new home, and once the week is up, they're encouraged to bring them along to work.
In a statement, co-founder James Watts said, "it's not easy trying to juggle work and settle a new dog into your life, and many members of our crew have four-legged friends at home."
"We wanted to take the stress out of the situation and let our teams take the time they need to welcome their new puppy or dog into their family. We always want to raise the bar when it comes to offering our staff the best possible benefits; at BrewDog, we care about two things above all else. People and beer. We also just really really like dogs."
The company's HQ in Aberdeenshire has around 50 office dogs, and most of its 30 UK bars are dog friendly – the perfect spot for a pint with your pooch. But those aren't the only employee benefits: they also have a pretty liberal drinking policy, with staff receiving a monthly allowance of free beer. Where do we sign up?!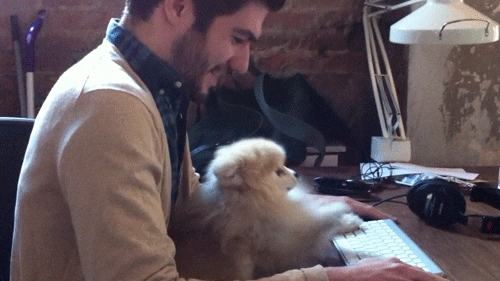 Featured image via BrewDog.